Inclusive West Kowloon Community Engagement Programme: "Understanding the Needs of People with Disabilities" Webinar
2022/11/04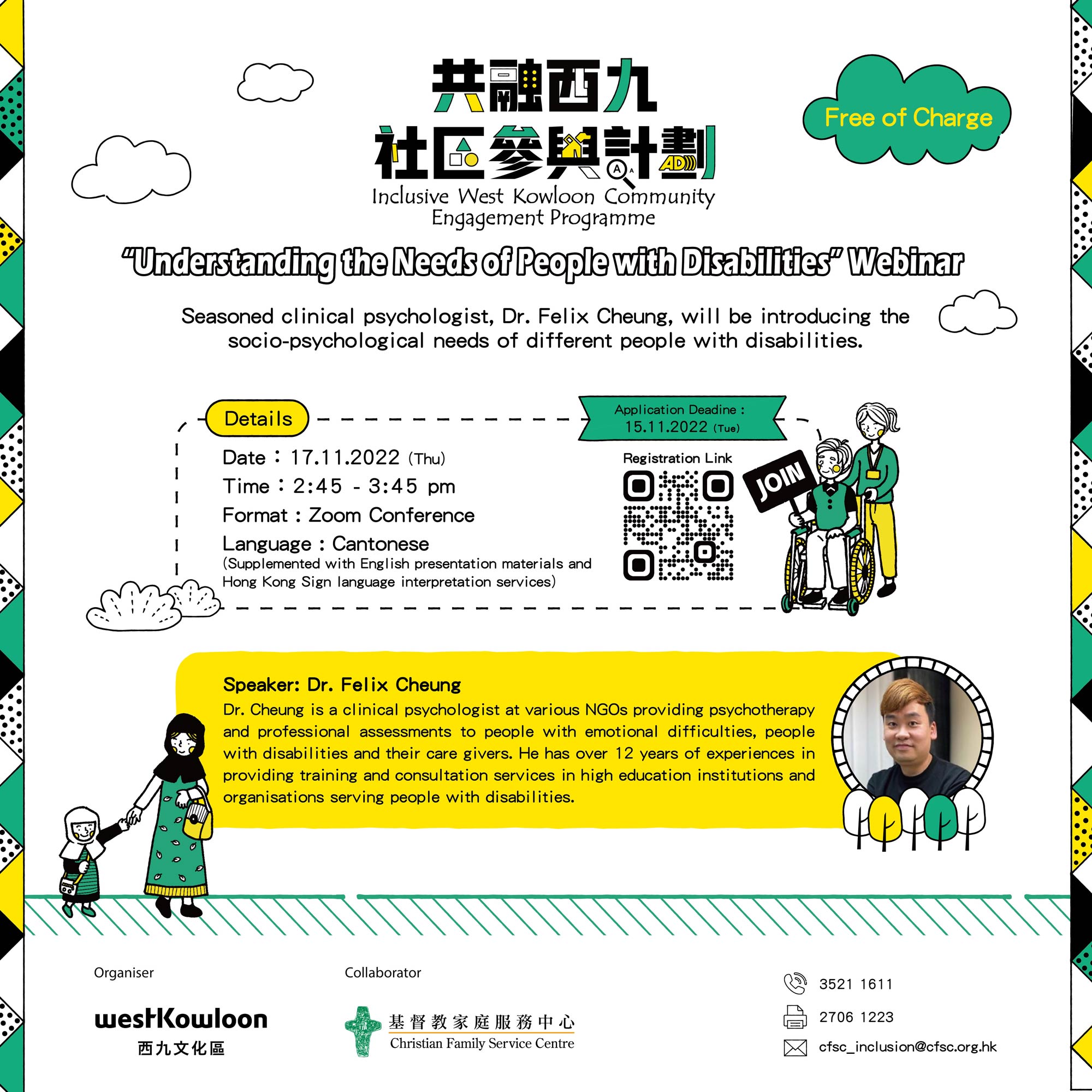 The modern society values diversity and inclusion. It is important that we understand the needs of people with disabilities in order to build a harmonious and inclusive community.
The Inclusive West Kowloon Community Engagement Programme co-presented by the West Kowloon Cultural District Authority and the Christian Family Service Centre, sponsored by the Yau Tsim Mong District Office of the Home Affairs Department, will be holding a "Understanding the Needs of People with Disabilities" Webinar on 17 Nov (Thu). Seasoned clinical psychologist, Dr. Felix Cheung, will be introducing the socio-psychological needs of different people with disabilities.
Register now to join the webinar, details are as follows:
Date: 17 Nov 2022 (Thu)
Time: 2:45 – 3:45 pm
Format: ZOOM conference
Language: Cantonese (Supplemented with English presentation materials and Hong Kong Sign language interpretation services)
Fees: Free of charge
Registration Link: https://bit.ly/cfsc_webinar
Registration Deadline: 15 Nov 2022 (Tue) (Limited quota available, first-come first-served)
Speaker: Dr. Felix Cheung

Dr. Cheung is a clinical psychologist at various NGOs providing psychotherapy and professional assessments to people with emotional difficulties, people with disabilities and their care givers. He has over 12 years of experiences in providing training and consultation services in high education institutions and organisations serving people with disabilities.

For enquiries
Tel: 3521 1611
Fax: 2706 1223
Email: cfsc_inclusion@cfsc.org.hk