最新动向
Media Coverage: 'Guardian Angels' help protect dementia sufferers
2019-05-14
| | |
| --- | --- |
| Date: | 14thMay, 2019 (Tuesday) |
| Source: | South China Morning Post – City 1 – Community |
| Re: | 'Guardian Angels' help protect dementia sufferers |
| Ref: | |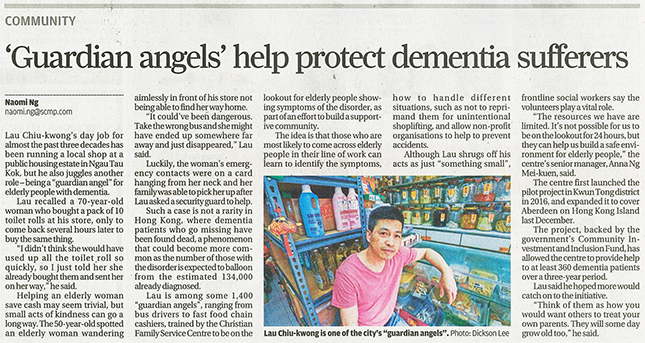 Lau Chiu-kwong's day job for almost the past three decades has been running a local shop at a public housing estate in Ngau Tau Kok, but he also juggles another role – being a "guardian angel" for elderly people with dementia.
Lau recalled a 70-year-old woman who bought a pack of 10 toilet rolls at his store, only to come back several hours later to buy the same thing.
"I didn't think she would have used up all the toilet roll so quickly, so I just told her she already bought them and sent her on her way," he said.
Helping an elderly woman save some cash may seem trivial, but other times a small act of kindness can go a long way.
The 50-year-old spotted an elderly woman wandering aimlessly in front of his store not being able to find her way home. Had he not intervened, he could not imagine what would have happened to her.
"It could've been dangerous. Take the wrong bus and she might have ended up somewhere far away and just disappeared," Lau said.
Luckily, the woman's emergency contacts were written on a card hanging from her neck and her family was able to pick her up after Lau asked a security guard to help.
Such a case is not a rarity in Hong Kong, where dementia patients who go missing have been found dead, a phenomenon that could become more common as the number of those with the disorder is expected to balloon past the estimated 134,000 already diagnosed.
Lau is among some 1,400 "guardian angels", ranging from bus drivers to fast food chain cashiers, trained by the Christian Family Service Centre to be on the lookout for elderly people showing symptoms of the disorder, as part of an effort to build a supportive community.
The idea is that those who are most likely to come across elderly people in their line of work can learn to identify the symptoms, how to handle different situations, such as not to reprimand them for unintentional shoplifting, and allow non-profit organisations to help through early interventions to prevent accidents.
Although Lau shrugs off his acts as just "something small", frontline social workers say the volunteers play a vital role.
"The resources we have are limited. It's not possible for us to be on the lookout for 24 hours, but they can help us build a safe environment for elderly people. That way, caretakers will feel less of a need to lock them up in the house," said the centre's senior manager Anna Ng Mei-kuen.
The centre first launched the pilot project in the Kwun Tong district in 2016, and expanded it to cover Aberdeen on Hong Kong Island last December.
The project, backed by the government's Community Investment and Inclusion Fund, has allowed the centre to provide help to at least 360 dementia patients over a three-year period.
The fund, which was established in 2002, has supported about 400 projects, and is targeted at building social capital in different demographic groups. This year its staff hope to focus on supporting projects helping children and families.
Kwan Chuk-fai, the fund's chairman, said projects involving people like Lau help "bridge loose ends in the local community".
"The cross-sectoral networks are like glue," he said. "Each party contributes their unique strengths and are mutually complementary. This is invaluable social capital and intangible assets of the society. They are a crucial supplement for the regular social services."
Such services help fill a gap in a city that still lags behind other countries in tackling the silver tsunami crisis.
The government does not keep statistics on people with dementia, unlike in Japan and Singapore.
It was not until last year that the government rolled out two large-scale programmes targeted at raising public awareness and enlisting community support for those with the disorder.
Under one programme, training for how to handle dementia patients has been provided to staff from 49 property management companies, which manage more than 3,000 residential buildings across the city.
Elderly Commission chairman Dr Lam Ching-choi said the traditional method of offering community services and putting those in more serious conditions into care homes wasn't enough.
At least a third of those aged 85 or above – currently more than 207,000 people – are expected to show symptoms of dementia, according to official projections.
"If you just look at the sheer size of the problem, using such traditional methods should just be the last resort," Lam said. "We shouldn't be just looking at the problem from a medical or community services perspective, we need to develop social capital in the community."
Lau said he hoped more would catch on to the initiative.
"Think of them as how you would want others to treat your own parents. They will some day grow old too," he said. "If more people had this mentality, even just a little help could be life-changing."