The Jockey Club Affordable Outpatient Services Subsidy Scheme
2022/06/24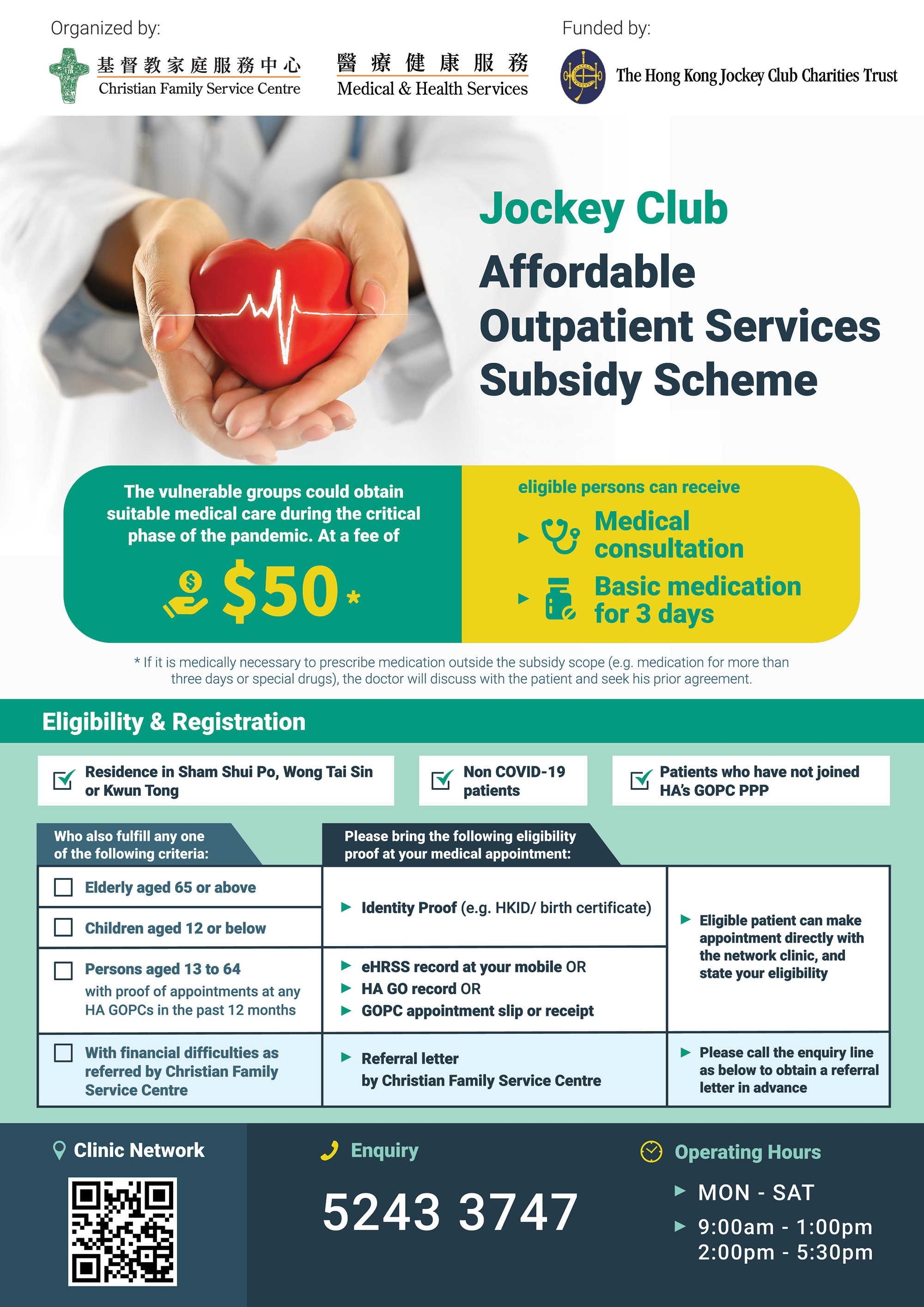 Since the start of the fifth wave of the COVID-19 pandemic, over 30 GOPCs have been converted to designated COVID-19 clinics or suspended services, resulting in a shortage of affordable consultation services. While fighting the pandemic, it is equally important that the non-COVID-19 medical needs of the needy should continue to be provided for.
The Jockey Club Affordable Outpatient Services Subsidy Scheme ("the Scheme"), a collaboration between The Hong Kong Jockey Club Charities Trust (the "Trust"), Christian Family Service Centre and non-profit-making/private clinics, aims to provide affordable outpatient services to eligible non-COVID-19 patients. The Scheme will be conducted from 24th March 2022 to 30th September 2022, and completed whenever quota finished.
Under the Scheme, five NGOs, namely Christian Family Service Centre, the Hong Kong Society for Rehabilitation, Pok Oi Hospital, Lok Sin Tong Benevolent Society, Kowloon and Aberdeen Kai-Fong Welfare Association have engaged non-profit-making and private clinics to offer affordable outpatient services. Eligible persons can receive a medical consultation and basic medication for three days for a fee of HK$50. The Club's Charities Trust will provide a subsidy of HK$250 for each patient, with the remaining costs to be covered by the clinics. Enquiry Hotline: 5243 3747
Eligibility
Eligible patient can make appointment directly with the network clinic, and state your eligibility. Please note that there will be limited quota at each clinic in first come first serve basis.
Please bring your eligibility proof at your medical appointment.
| | | |
| --- | --- | --- |
| (1) | Elderly aged 65 or above | Identity Proof (e.g. HKID) |
| (2) | Children aged 12 or below | Identity Proof (e.g. birth certificate) |
| (3) | Persons aged 13 to 64, with proof of appointments at any HA GOPCs in the past 12 months | eHRSS record at your mobile, HA GO record,or GOPC appointment slip or receipt |
| (4) | With financial difficulties as referred by the Christian Family Service Centre | Referral letter by Christian Family Service Centre |