CEO's Message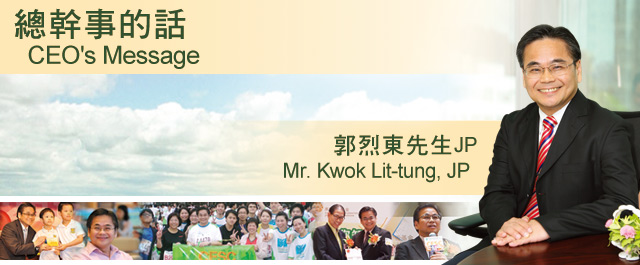 The mission of Christian Family Service Centre (CFSC) is to serve the people in need and to support family functioning. Through 10 core services and 2 special services, plus various innovative projects, we strive to achieve our mission with diversified quality services. Last year, one major area of work was to refine and align the works of our 10 core services along a shared direction of 'Services for a Better City', to ensure our thinking, planning and servicing can better meet the needs of the city and to keep pace with the rapid social changes.
For the Children and Family Services, last year we successfully bid and the Education Bureau allocated a kindergarten premises at Kwun Tong On Tat Estate for CFSC to set up a new kindergarten. We later gratefully sought a HK$3.5 million naming donation from the Yeoh Choy Wai Haan Charity Foundation and the kindergarten was named Christian Family Service Centre Yeoh Choy Wai Haan Memorial Kindergarten. This new kindergarten was designed to embrace explorative learning and to cultivate children curiosity.
For the Elderly Care Services, a group of 8 staff from residential care homes organised a study trip to Taichung, Taiwan to study the self-reliance long term care model for no restraint. After the study, the practice was piloted in our residential care homes and the results were found very positive. And therefore a plan was drawn to extend the practice for a wider group of residents. Apart from this, the Home and Community Care Services received funding support from various sources, namely the Community Care Fund supports the 'Pilot Scheme on Home Care and Support for Elderly Persons with Mild Impairment' and 'Pilot Scheme on Support for Elderly Persons Discharged from Public Hospitals after Treatment' and the Keswick Foundation Limited funds a 'Fit Solution - Community Transitional Day Rehabilitation Programme' for 3 years.
Hong Kong has entered the era of ageing society, and people are enjoying longevity. There is important for old people to maintain a heathy life during old age and to remain active for as long as possible. There are a lot we can do. Last year, our Active Ageing Services established a '50+ School of Good Life' to regularly provide learning and sharing opportunities. We collaborated with Yahoo website and column in Yahoo is designated for the 50+ persons to share their insights and viewpoints. In addition, with the support from Hong Kong Jockey Club Charities Trust, we launched the 'Jockey Club 50+Startup Project' to incubate and support business innovations. This platform should be the first of its kind in Hong Kong designed for retirees.
Regarding Environment Protection initiatives, we participated in the 'Community Involvement Projects for Waste Reduction Through Quantity-based Municipal Solid Waste Charging'. The project also helped to sustain a waste separation system in the building. In addition, works had been prepared to transform the headquarters building into a green building by replacing the cooling chiller and implementing a set of green policies. Our target is to obtain a Platinum rating in the BEAM Plus certification for existing buildings.
With the support from the Social Welfare Development Fund, more and more information technology are used to assist operation. We have implemented the online Finance Management System two years ago. Last year, the online Human Resource Management System was also rolled out successfully. Furthermore, we also moved our document storage system and email exchange system to i-cloud. The move greatly enhanced the access of information and communication. With the assistance from the Information Technology Resource Centre of The Hong Kong Council of Social Service, we also conducted a comprehensive IT review to study the existing system and to make recommendations on the enhancement of the system.
2017-2018 is a very busy year. With new service directions set and new work teams formed, staff had to bear more uncertainty and discomfort. With new systems launched, staff had to adjust to new procedures and new working habit. Coupled with new services and limited resources, the increase in stress is understandable. It is a tribute to CFSC people that, amid the increased workload and stress, our staff is diligent and is able to keep up with their work standards and passion, to make our services performed satisfactorily. I am so thankful that I have a group of dedicated and competent staff who are able to implement the plan and making things happen. I would also like to thank for the support and guidance from our Board of Directors, especially on the resources we need to work things out and have their trust on us. Really thankful!
Kwok Lit-tung, JP
Chief Executive